This is a new feature that I'm going host on my blog weekly. I thought it would be nice to keep you guys updated on the things that I'm interested in that week! Plus it gives me a chance to discuss my opinions too.
Currently Reading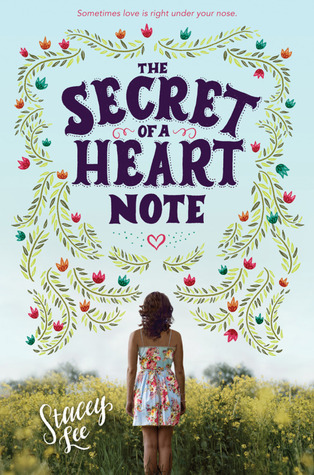 The Secret of a Heart Note by Stacey Lee
Sometimes love is right under your nose. As one of only two aromateurs left on the planet, sixteen-year-old Mimosa knows what her future holds: a lifetime of weeding, mixing love elixirs, and matchmaking—all while remaining incurably alone. For Mim, the rules are clear: falling in love would render her nose useless, taking away her one great talent. Still, Mimosa doesn't want to spend her life elbow-deep in soil and begonias. She dreams of a normal high school experience with friends, sports practices, debate club, and even a boyfriend. But when she accidentally gives an elixir to the wrong woman and has to rely on the lovesick woman's son, the school soccer star, to help fix the situation, Mim quickly begins to realize that falling in love isn't always a choice you can make.
Thoughts so far:
I'm about 100 pages in right now, but so far I think it's going to be a book that I really enjoy. Mim is one of those characters that is easy to sympathize with and although her situation is unique a lot of her struggles are relatable. I already love the friendship between her and Kali and I hope it stays important throughout the book because I'm really into strong female friendships! Also, I love the way being an aromatuer is portrayed and I love learning the history of it too. It's so well thought out and it feels realistic.
Currently Watching
Age of Youth (aka Hello, My Twenties!)
University students Yoon Jin-Myung, Jung Ye-Eun, Song Ji-Won, Kang Yi-Na and Yoo Eun-Jae share a house.
Jin-Myung is busy supporting herself financially and studying. She suffers from lack of sleep. Ye-Eun is devoted to her boyfriend, she is clear about what she likes or not. Ji-Won has a bright personality and likes to drink. Yi-Na is popular due to her beautiful appearance. Eun-Jae is timid, but she has an unique taste for men.
Thoughts so far:
I've only watched the first episode, and while I wasn't immediately hooked there are a lot of elements to this drama that have me interested enough to keep watching. I liked how it's set in a university, especially because I've only seen dramas that are set in high school or when the characters are in their late twenties. I also like how this drama focuses on five girls living together in one apartment because I feel like kdramas hardly ever have more than two important female characters, and they also hardly have well developed female friendships. I'm really excited to see these girls interact with each other and (hopefully) get closer to each other!
Currently Listening To
Oh Na Na by K.A.R.D.
Technically I'm listening to all of their songs right now, but this is the one that I keep playing on repeat and I've had it stuck in my head for a couple days now!
Their songs make me want to go to a club and dance (even though that's something that I'd never actually do haha).
What are you reading/watching/listening to this week?